Description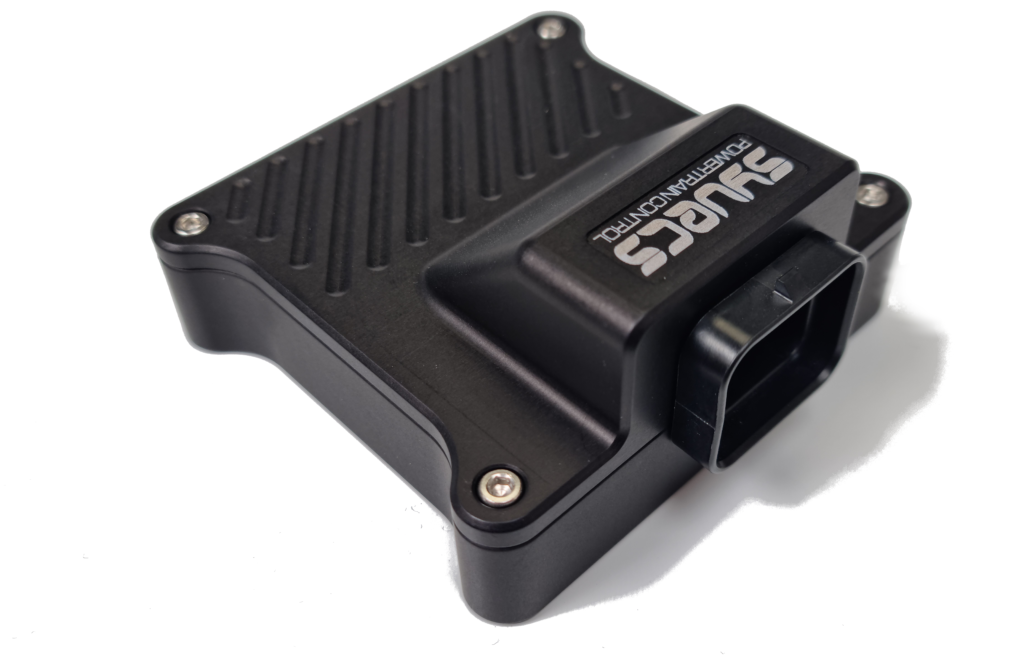 The Syvecs Generic AWD Controller is a compact and powerful unit for controlling 4WD/AWD systems in OEM and motorsport applications.
Designed to integrate into any vehicle via the use of a configurable CANbus communications system.  Users are able to receive real-time data from the OEM/Aftermartket systems and uses this data for operational and monitoring strategies, resulting in a precise and accurate control of AWD/4WD control systems.
Additional sensors can also be connected to the controller to provide further functionality and safety such as Awd Temperature, Awd Pressure, Axle Speeds and more.
Advanced users can also setup custom can transmit option with the powerful CANbus section to allow bits or bytes to be sent on the CANbus to keep OEM systems happy or trigger warning Lights, Torque Limits and more.
The AWD controller is fitted with four Half Bridges drivers which are capable of being driven Low or High and able to handle a maximum of 15amps peak/8amp continuously per output. Pin Sharing is present on H-Bridge1/2 and 3/4 to allow up to 16 amps continuous current with paired outputs.
Each of the four H-Bridge Outputs include current monitoring and can be used as part of the protection strategy to ensure solenoids are connected and operating correctly. For example if the Awd Solenoid is driven and no current flow is detected it will immediately invoke a Limp flag or CAN message to a dash. Short circuits are also monitored, and if detected will trigger a over- current situation which will set a limp flag as well and shutdown the output for safety.
The four 0-5v analogue inputs fitted on the controller have an optional 3k 5v pull up present and can be used for an external 2WD switch, Adjustment Pot, Awd Temperature and Awd Pressure.
Four Magneto Resistive inputs are also fitted on the controller that can be used for picking up speed signals from magnetoresistive 2 wire hall speed sensors. The speeds can then be transmitted out on the CANbus also for other useful tasks.
A 6-Axis IMU sensor is also fitted on the board to allow acceleration data to be viewed in real time or linked into strategies.
Some of the Maps available
4 x Base Duty Tables
4 x Adders with enable maps:
Left Foot Braking
Front Slip
Rear Slip
Centre Slip
Multipliers with enable maps
Steering Angle
AWD Temp
AWD Pressure
AWD Potentiometer
Manifold Pressure
Gear
Post Shift
AWD Trim Pot
Tyre Diameter adjustment under sensors
2WD/ Burnout Mode 
Via Dedication Switched input
Via Can bus Message
Via OEM Functions
Limiters
Maximum Duty
Launch Control Limit
Duty Rate of Change
Decay/Hold Functions
Limp Mode
Over Current Protection
Over Slip Protection
Over Temp Protection
Cooling Pump control
AWD Cooling pump control logic
Datastream
The Generic unit has full flexible CAN Receive and Transmit
Sensors / Switches
External sensors can be connected to the AWD module and then linearized in our Scal Software
Specifications 
Outputs
4 X Half Bridge Outputs
15Amp Peak (100ms) 8Amp Continuous Current Monitoring on each pin
Pin Sharing available on HBR1/2 and HBR3/4 for 16 amps high current motor/solenoids
Inputs
4 x Analogue or switch inputs (0-5V)
4 x MagnetoResistive Circuits
Interfaces
USB For Updates and Config
1 x CAN 2.0B interface for communication with other controllers or logging systems 1 x Kline Interface
6 Axis IMU Chip
Power Supply
6 to 26V input voltage range
Ignition Switch Logic with high current supply
Physical
IP67 Sealed in Automotive Spec -40c to 125c 34 way Superseal 1.0
88mm x 89mm x 40mm